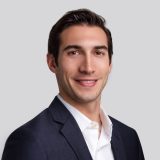 Jonathan Goldstein
Vice President, Wealth Advisor
---
Jonathan H. Goldstein is a Vice President and Wealth Advisor at Element Pointe Advisors. Jonathan is responsible for delivering the firm's wealth management, portfolio management, and family office advisory services to high net worth clients in the U.S. As a Wealth Advisor, Jonathan engages with clients in crafting and implementing customized investment and wealth management strategies. Additionally, Jonathan works closely with the executive team in the implementation of the firm's business development and growth strategy.
Prior to joining Element Pointe, Jonathan spent four years as a Senior Investment Analyst for Merrill Lynch Private Banking Investment Group where he was responsible for working closely with the team's Chief Investment Officer in conducting investment strategy implementation for high net worth clients, as well as conducting investment manager due diligence. Jonathan also spent two years as an Associate Banker at J.P. Morgan Private Bank, where he worked with individuals, families, and organizations to help them preserve, grow, and structure their wealth to meet their unique objectives.
Jonathan received his Bachelor of Science in Economics and Finance from Bentley University, and his MBA from IE Business School in Madrid, Spain.
A South Florida native, Jonathan currently resides in Key Biscayne, Florida.